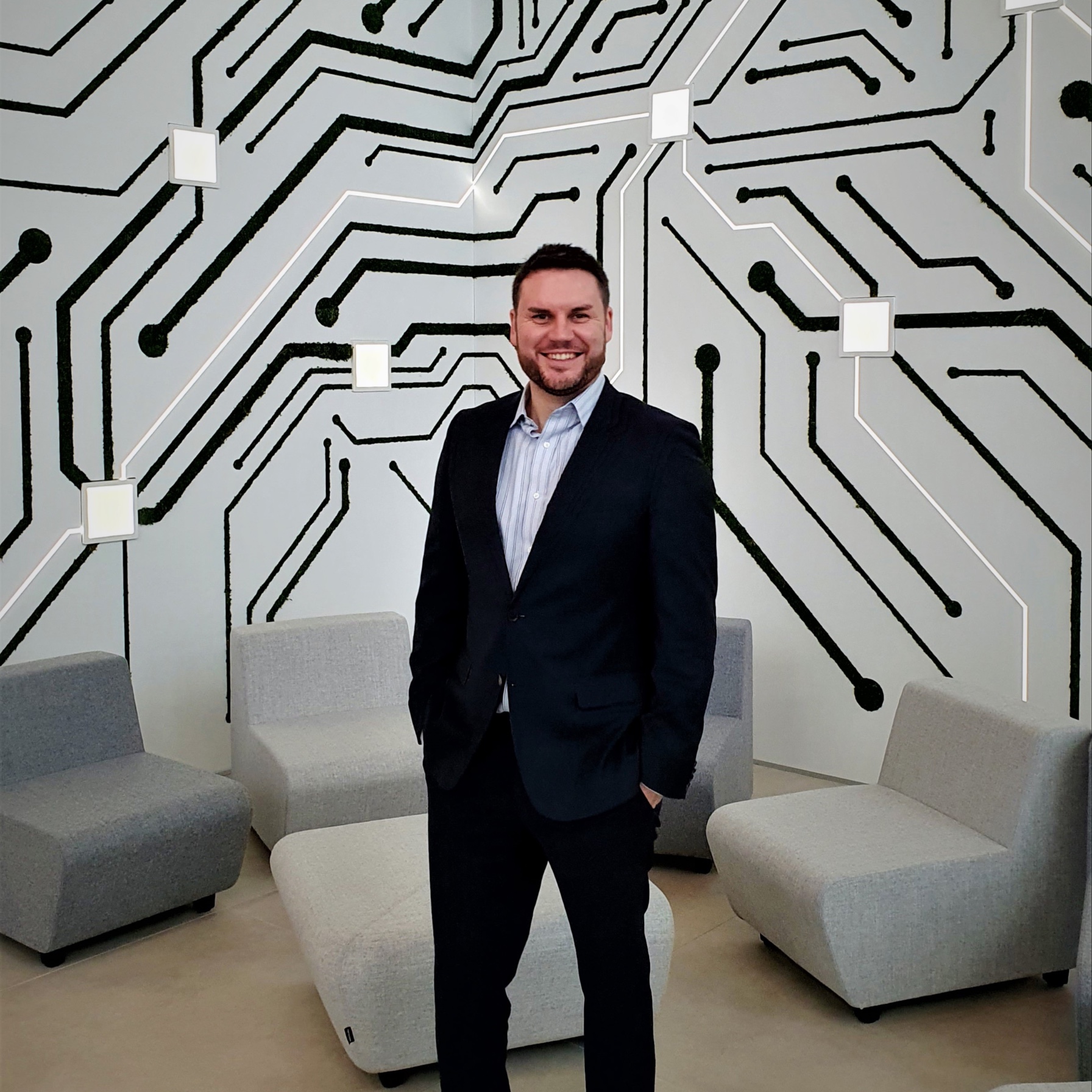 Why did you choose Vilnius, Lithuania as your place for relocation? What motivated you to consider relocating to Vilnius for your career?
I had an opportunity to study abroad for an entire year as an Erasmus student in 2007 in Kaunas, Lithuania's ISM University of Management and Economics. It was how my "love story" with Lithuania began.
I had chosen to study in Lithuania at that time mainly because of my passion for basketball. During the USA vs. Lithuania match at the 2004 Summer Olympics in Athens, I vividly recall feeling inspired by this nation.
I was also intrigued to learn what it would feel like to live in a newly-added EU member state and experience a culture I didn't fully understand.
In 2009, I met my wife, Agne, in Brussels. In fact, our paths crossed multiple times, from her Erasmus at my business school in France to our simultaneous internships in Belgium.
After finishing our studies, we settled in my hometown of Orléans, France, for ten years. Shortly after our children (Saulé and Mantas) were born, I began to question the life I envisioned for my family. I was in my early thirties, spending 70 hours per week at work - including the weekends. Despite an attractive position and a comfortable income, I wasn't happy.
My wife and I understood we needed to make some adjustments - and take a significant step. That is why we decided to relocate to Lithuania. The plan for us was to find the best environment for our children to grow up in, to be closer to her family, to live a more balanced life, and to begin new careers.
It seemed like a big gamble at the time, but it's one we haven't regretted since. We selected Vilnius because it provided greater career options, particularly for me as a foreigner.
What specific opportunities or advantages does this location offer for professionals like yourself?
For foreigners seeking a profession, Vilnius offers many possibilities. As someone actively looking for new employees, there sometimes seem to be more jobs than individuals.
Additionally, many organizations, particularly in sales, offer positions that foreigners may fill with no Lithuanian language abilities. These companies export their goods or services to markets that demand specific language skills. As a result, it provides a competitive edge for foreigners in the job market.
The majority of businesses are young, innovative, and driven. As a result, the workplace in Lithuania is suitable for ambitious and motivated individuals.
How long have you been living here?
4 years. We moved here at the end of 2019, a few months before the start of the pandemic.
How would you describe Vilnius? What excites you the most about living and working in Vilnius? Are there any specific cultural or recreational activities, amenities, or lifestyle factors you look forward to experiencing in this city?
In my opinion, Vilnius is a cultural cosmopolitan metropolis of "human scale." Every area has its own character, such as Uzupis or Naujamiestis, and everything is within 15 minutes' drive: the Old Town, the Green Lakes, the airport, and even the ski resort at Liepkalnis in winter. Every weekend, there are exciting events to attend, especially for families. There are so many activities I have yet to experience, such as visiting Lukiskes Prison or flying in a hot air balloon at Vingo Parkas.
Can you tell us about your experience working or living in Lithuania? How do you adapt to new environments and cultures? What helps you integrate smoother and faster?
Working in Lithuania has been tremendously stimulating for me. Coming from France, I was initially concerned about the financial aspect. I quickly noticed that it's feasible to earn a large income in the proper organization that understands how to reward excellence. With Teltonika, I discovered an international atmosphere where I could grow while merging my interests in sales and people.
I've made three career leaps since joining the group in 2020. I began as a sales representative, and now I'm the Global Sales Director, overseeing a sales division of 30 sales experts from around the world.
How do you adapt to new environments and cultures? What helps you integrate smoother and faster?
Despite preparation, adaption was difficult in the first months due to a completely different work culture and remote work due to the pandemic.
I was fortunate to work with amazing coworkers who embraced me as a friend, made me feel appreciated, and made every effort to integrate me. Even now, it's overwhelming to realize that, without my asking, all of my colleagues on the management board are making their interventions in English to involve me. Such a thing would never occur to me in France, even in worldwide corporations.
Apart from work, my wife and her family have made me feel at home in Lithuania. Every cultural difference strikes me as intriguing and atypical daily. That is extremely refreshing, and it's one of the reasons I chose to relocate here in the first place.
Have you built a professional network in Vilnius? What helped you to do so?
Being a part of the same group for the last four years has allowed me to build a network largely within the firm. Corporate events, sports tournaments, and team-building activities have all played a significant role in making it a reality.
Furthermore, an increasing number of activities aimed at the Vilnius expatriate community are hosted not just by the International House of Vilnius but also by other organizations. For example, ISM University of Management and Economics recently invited me to join their "International Community Meetup. Vilnius - the best place for your career." It was a terrific opportunity to meet the business expat community in Vilnius and exchange our experiences.
Have you found work-life balance while living in Vilnius? Did any specific things contribute to your desired work-life balance?
Definitely. The working relationship in Lithuania is far healthier than in France. Managers in Lithuania are mostly evaluated based on their performance and the worth they contribute to their teams. I've seen the old-fashioned approach that presence over lengthy hours at work is still strongly encouraged in France.
I still work a lot in Lithuania, but only because I want to. Because my profession is also my passion, devoting time outside of working hours does not feel like a restriction.
The ability to spend quality time with my wife and children on weekends is the most crucial factor for me in achieving a work-life balance.
I must acknowledge that Lithuania is a fantastic destination for families. Numerous restaurants, activities, and attractions are designed to facilitate this family lifestyle.
How do you envision your long-term future in Vilnius? Do you see yourself establishing roots and building a long-lasting career and life in the city?
I believe I have finally found the appropriate place for me and my family, so I have no plans to relocate anytime soon.I am also thrilled to contribute to the growth of my company, which has big ambitions for the future in Lithuania, particularly in Vilnius.
At Teltonika Energy, I am currently assembling an international team that includes more than 50% international sales professionals in Vilnius. The team will double or triple in the following year to support the growth of our activity.
Finally, I am really grateful to belong to a Lithuanian company that promotes and trusts international staff members like myself with significant responsibilities.
That last part is vital to me since it not only motivates me to be more involved in my career but also allows me to envision a bright future for my family here in Lithuania.
What support or resources do you believe would be beneficial to newcomers in Vilnius? How do you think the city and its community can further assist individuals who are relocating and starting a new life chapter?
I believe that organizations such as International House Vilnius are a valuable resource for immigrants to Vilnius. I don't recall such assistance being provided in 2019.
For example, I recall three 5,000-kilometer road trips to transport all of my possessions to Vilnius since I couldn't find a suitable business to handle it. I noticed you recently provided a list of organizations to assist with such work.A lot of assistance is already available, although it is not widely known among foreigners in Vilnius. In my perspective, there may be even more synergies with Vilnius-based enterprises attempting to attract talent. That would be an ideal gift for newcomers, easing their integration.
On the negative side, finding a school for my French Lithuanian children is still challenging because I want them to learn both French and Lithuanian. There is a severe lack of assistance and information to make it simpler or more accessible, in my opinion. As a French father residing in Lithuania, I would like to be accompanied and pointed to schools where French is taught, easing their entry and integration.
What skills are needed to adapt and integrate into new city life faster? Is it the Lithuanian language? Understanding work culture? Anything else?
Integration, in my opinion, is primarily the responsibility of the newcomer. The business or the city must simply establish conditions in which the employee and his family can feel good and seek assistance if necessary. For newcomers, having a tutor dedicated to new people, for example, might be really beneficial. I'm aware that a comparable program for personal life exists at the International House Vilnius.
It is also necessary to mentally prepare before starting a new job in a different country, as each person will encounter some type of destabilizing cultural difference or challenge. Finally, resilience and determination to achieve your goals are required to avoid losing yourself in the process. My main regret is that I failed to dedicate enough time to learning and studying Lithuanian. That is one of my planned projects for the future.
Do you consider yourself Vilnietis, and would you agree with a phrase – "Vilnius is my city"?
That's a difficult question because I am "Žalia balta" guy. Because I began my Lithuanian adventure in Kaunas, this city will always hold a particular place in my heart.
Aside from sporting rivalry, I am glad to call Vilnius my home.