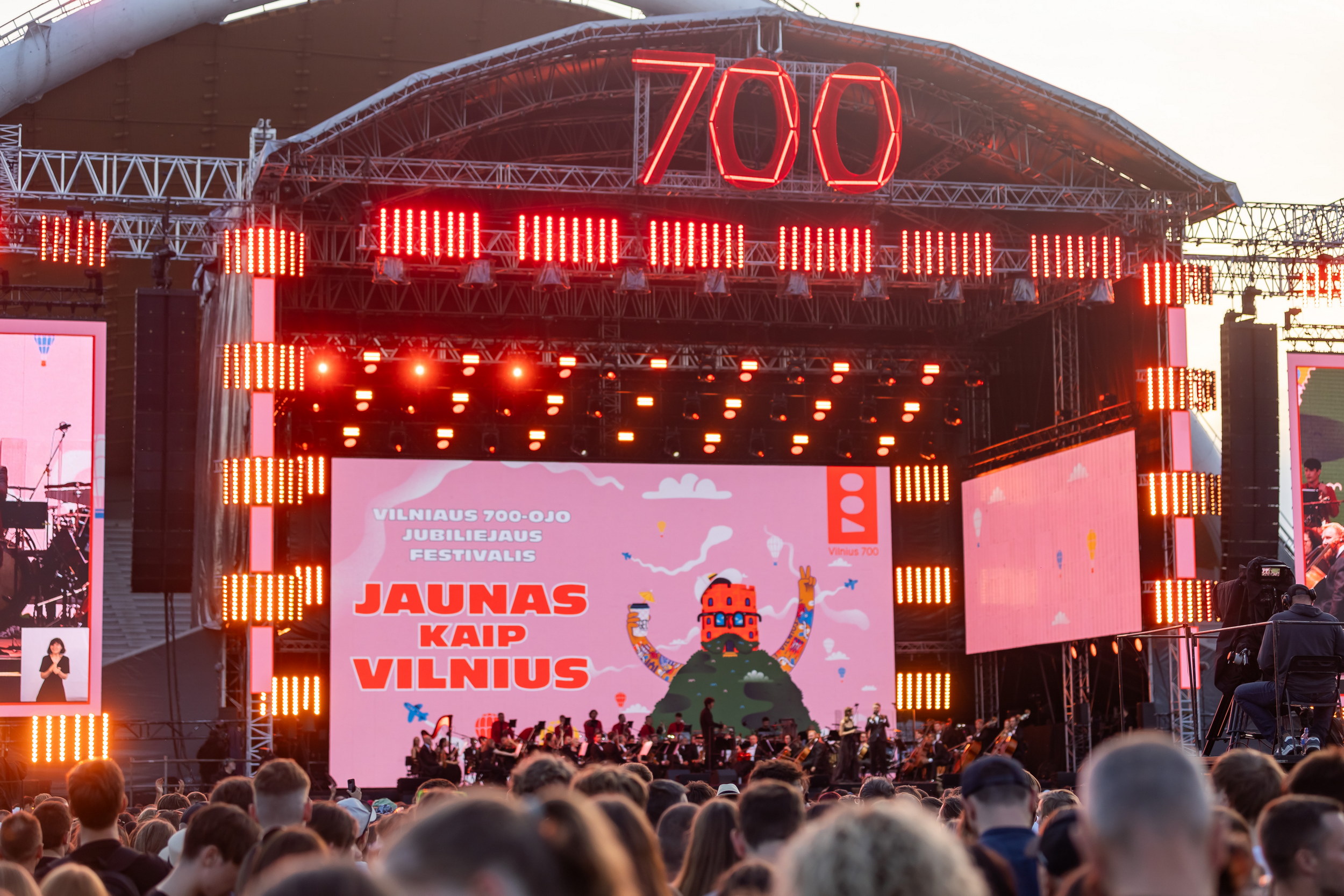 Vilnius, the vibrant capital of Lithuania, recently marked its 700th birthday in a jubilant and unforgettable celebration at the As Young As Vilnius Festival. The event, which took place at the renowned Vingis Park, witnessed an extraordinary convergence of the local community, tourists and expats from around the world. International House Vilnius was also there and in this article highlights the global connections, language meet-up, and electrifying performances that made the festival a truly momentous experience.
Global Connections
The heart of the As Young As Vilnius Festival was undoubtedly the main stage. However, there was a vibrant and diverse cultural exchange that took place within the International House Vilnius tent. People from all walks of life, representing different nationalities, came together to share their stories of why Vilnius became their beloved home. The warmth and inclusivity of the gathering fostered a sense of belonging and highlighted Vilnius as a city that embraces diversity with open arms. Notably, participants who showcased exceptional knowledge about the expat community were honored with "godiess" (trophies), symbolizing their invaluable contributions to the city's international tapestry.
Language Meet Up
Language enthusiasts and learners found a haven at the special language meet-up. Within this welcoming environment, attendees had the opportunity to practice their Lithuanian language skills while engaging in enriching conversations with one another. The event echoed the spirit of Nuos-ta-bu (amazing) camaraderie as language learners exchanged tips and insights, further reinforcing the bond between the local community and expats.
Vingis Park Goes International
The festival's stage at Vingis Park came alive with the performances of globally renowned bands like Bastille and Clean Bandit. Their electrifying acts captivated the audience, which consisted not only of Vilniečiai but also visitors from every corner of the globe. As the music resonated through the park, the atmosphere became an intoxicating mix of cultures, showcasing Vilnius as a cosmopolitan city that effortlessly blends tradition with modernity.
The As Young As Vilnius Festival commemorating Vilnius' 700th birthday was a resounding success. The event exemplified the essence of Vilnius – a city that bridges gaps between cultures, celebrates diversity and thrives on creating lasting connections. The memories forged during this extraordinary celebration will undoubtedly endure, as Vilnius continues to grow as a global hub of unity and joy. Let us carry forward the spirit of the festival and keep celebrating the marvels of Vilnius together!