Choose the topic that interests you:
Lithuania has to offer not only the fastest public Wi-Fi in the world but also plenty of opportunities from various fast-growing industries in medicine, science, finance, IT and other sectors. The demand for specialists with foreign language skills is growing alongside investments from foreign investors.
Did we mention that...
In 2021 Vilnius was recognised as:
1st Medium sized city for cost efficiency in the world by fDi;
2nd Mid-Sized Global City of the Future;

3rd European Capital of Innovation?
And some more...
98% of residents are happy to live in Vilnius

Top 10 in the world for work-life balance!
Vilnius is a dynamic growing city, with the high quality of life. Vilnius has lots of jobs to offer. Companies are seeking for new talents like never before. Can't you speak Lithuanian? Don't worry! There are plenty of companies which do not require that!
Vilnius needs you!
The purpose of this guide is to provide all the necessary information for international students studying in Lithuania (and graduates) about going through bureaucratic processes of finding a job or an internship.
I want to do an internship
The legal basis for a student internship of studies at a particular company is the Trilateral Internship Agreement between you, your university/college and the hiring company. It determines the duration of your internship, its supervisors and sets out the rights, responsibilities and liabilities of your higher educational institution (HEI) and the hiring company.
For more information about the Agreement and to learn when you should start searching for an internship place, contact your HEI's Career Centre (International Office).
HOW LONG CAN MY INTERNSHIP LAST?
The duration and goals of an internship depend on your study programme and the type of internship you are pursuing. Internships can be voluntary, smart, introductory, professional (educational), final or Erasmus+. To find out about these types of internships and their respective durations, contact your university/college.

IMPORTANT: a voluntary internship requires a written agreement between you and the hiring company.

I am looking for a job (EU or EFTA citizen)*
(* European Free Trade Association member states: Iceland, Liechtenstein, Norway and Switzerland)
You're a full-time student in Lithuania. Are you interested in working while you study? Here's what you need to know.

EU-citizens have same rights as Lithuanian citizens. There are no additional limitations. You can work up to 40 hrs/week if you're a Bachelor's, Master's or PhD student. Find more information here.
Being an EU-citizen allows you to start working without having an EU residence card. According to the law, foreigners from EU countries can stay in Lithuania for up to three months after their arrival. If you stay longer, you'll need to obtain an EU Residence Card.
An EU Residence Card is also known as an EU certificate of the right of residence in the Republic of Lithuania. If you stay in Lithuania for more than three months in a six-month period, you must obtain an EU Residence Card. First, submit your application and documents through the Lithuanian Migration Information System (hereinafter MIGRIS). The certificate is issued no later than one month from the date of the application submission. It costs EUR 8.60 to issue the card. Find more information on the website of Migration Department.


TIP: Have any specific questions? Schedule a meeting at International House Vilnius with a specialist from Employment Services in EN or RU. For migration and residence permit questions, contact the Migration Department.
I am looking for a job (Non-EU/EFTA citizen)
You're a full-time student in Lithuania and you already have your Temporary Residence Permit (TRP) or National visa (D)*. Are you interested in working alongside studies? Here's what you need to know.
Non-EU Bachelor's, Master's or PhD students with a TRP for studies** are allowed to work up to 40 hours per week during their studies (no additional work permit is needed). If you have National Visa (D), you will need to obtain a work permit (read more on MIGRIS).
Read more on the Work in Lithuania or Migration Department website.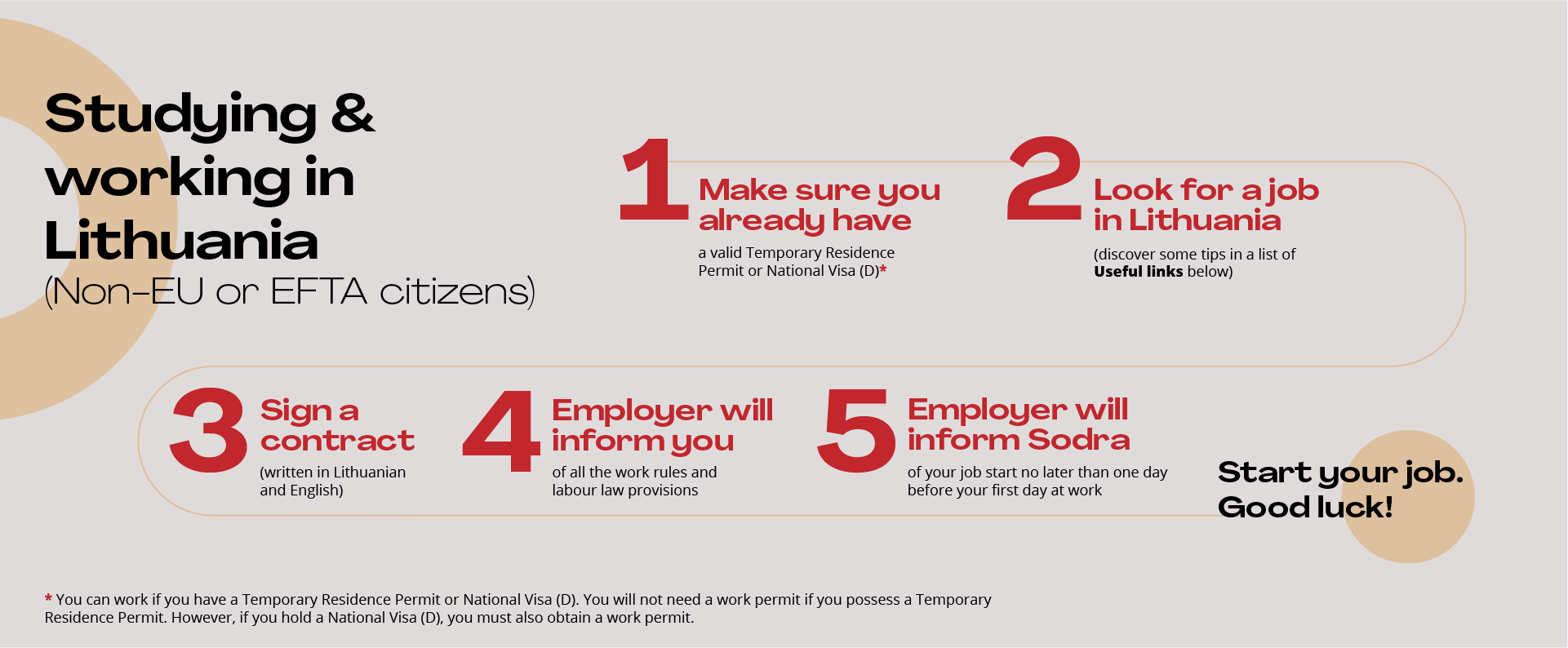 TIPS:
Once you become a student, your TRP is valid for a study period of a maximum of two years. If your Temporary Residence Permit is set to expire in less than four months, apply on MIGRIS for a new TRP on the basis of studies and register for an appointment with the Migration Department. Price: EUR 120 (issued within two months), EUR 240 (issued within one month).
When you need to get a new residence permit towards the end of your studies, the permit lasts for an additional three months after your graduation date (read more here).
Have any specific questions? Schedule a meeting at International House Vilnius with a specialist from Employment Services in English or Russian. For migration and residence permit questions, contact Migration Department.
I graduated. What's next?
Congratulations on your graduation! We are glad you are looking for opportunities to build your career in Lithuania. Here's what you need to do after graduation: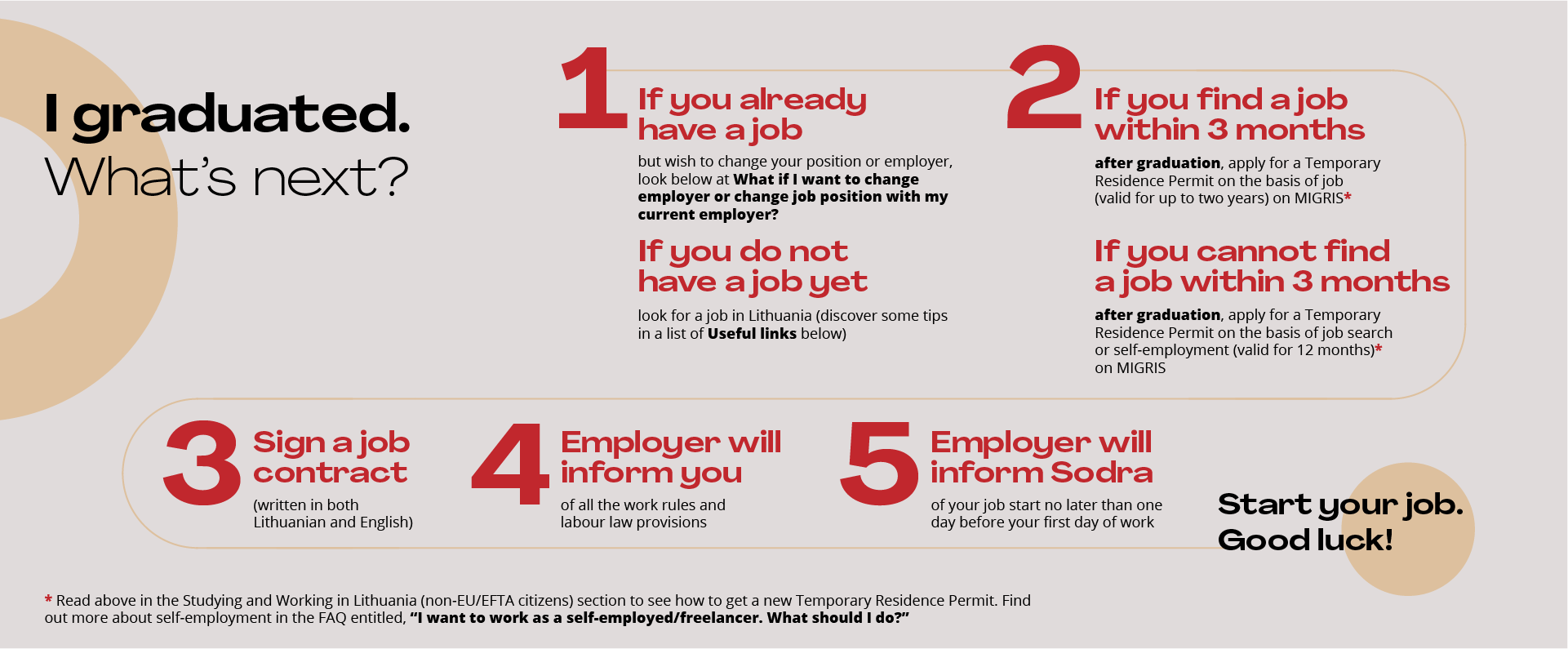 TIPS:
1. If you find a job after graduation, you can get a two-year TRP. If it is a highly qualified job, the permit lasts for three years. Read more on Migration Department website.
2. Got a TRP based on job search and found a job soon afterwards? You must change your TRP into residence permit based on job.

WHAT TO DO IF I WANT TO CHANGE EMPLOYER OR CHANGE JOB POSITION AT THE SAME EMPLOYER?

TIP: You don't need to change your Temporary Residence Permit if you changed employer or job position. It remains valid until its expiry date. Applications for changing job position/employer take one month and cost EUR 22. More information here.
Verify which documents you need using the list here.
F.A.Q.
WHERE CAN I FIND MORE INFORMATION ABOUT WHAT DO I NEED TO KNOW AFTER ENROLLING TO A UNIVERSITY/COLLEGE IN LITHUANIA?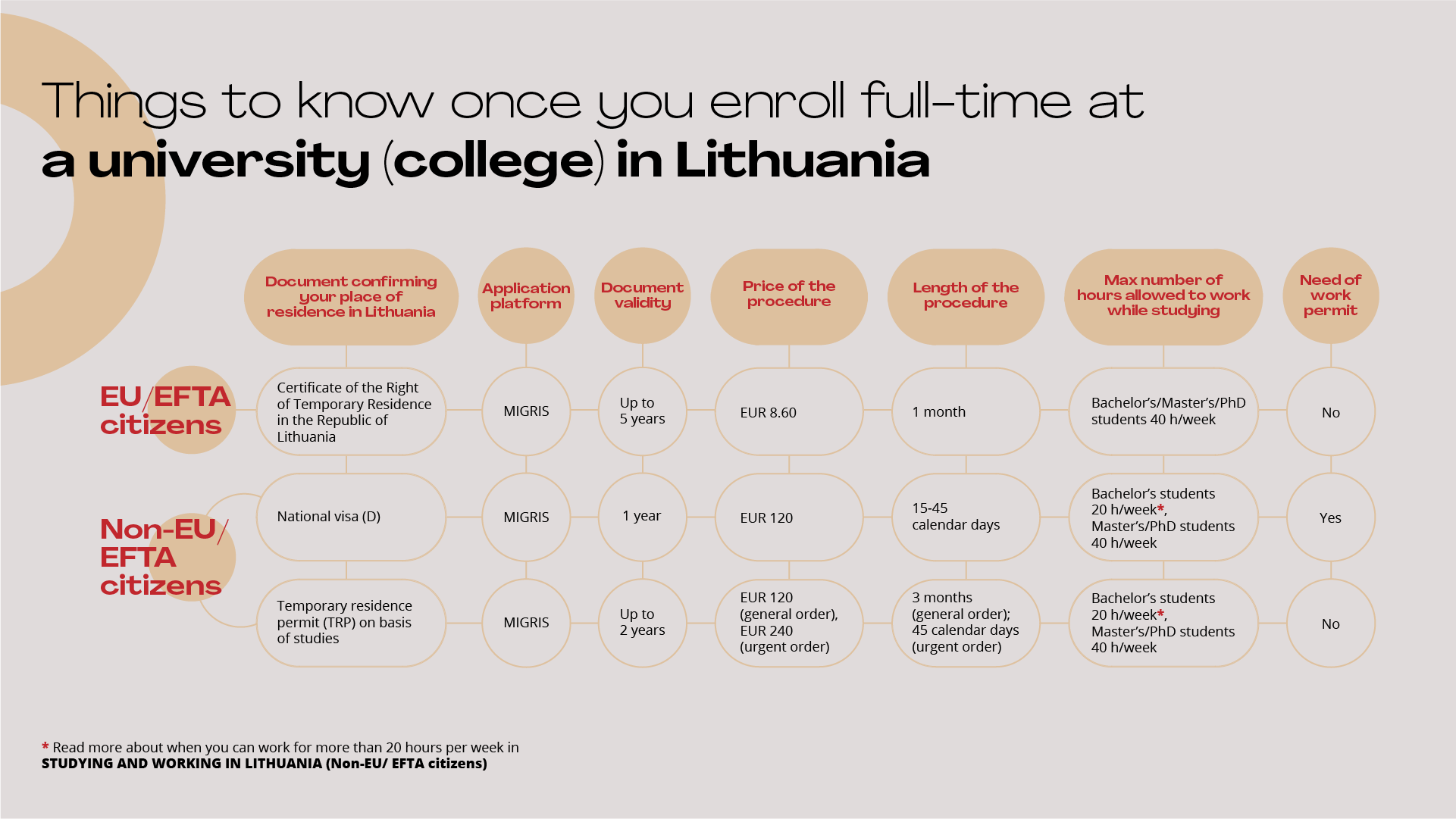 I DON'T SPEAK LITHUANIAN. WILL I MANAGE TO FIND A JOB?
Yes, you will! Did you know that 97.3% of the Lithuanian population speaks at least one foreign language? More than 80% of young professionals speak English (read more here).
There are plenty of companies hiring foreigners. In fact, your native language skills can be very useful while looking for a job and ultimately boosting a company's ability to conduct business in other countries!
I WANT TO WORK AS A SELF-EMPLOYED/FREELANCER. WHAT SHOULD I DO?
If you wish to work as a freelancer, the most convenient way to do it in Lithuania is to work under the Individual Activity Certificate. This certificate allows you to sell your services to different companies or institutions, and there is no limit on the income you earn or the amount of time you work. Freelancers are responsible for both income and payment of taxes.
Find more information about the Individual Activity Certificate on the State Tax Inspectorate website.
Useful links
JOB AND INTERNSHIP SEARCH
A

guide

on how to search for a job and prepare for employment in Lithuania

A step-by-step guide

for international students prepared by the Lithuanian University of Health Sciences (2020) on how to fill out your TRP application on MIGRIS and other related useful tips

Success job stories on the

Work in Lithuania

and

I Choose Lithuania

websites
WEBSITES FOR JOB SEARCH
Work in Lithuania
LinkedIn
CV-Online
CV market
JOB AGENCIES
Alliance for Recruitment
Manpower
Headex
Advantus
Biuro
Simplika
Info